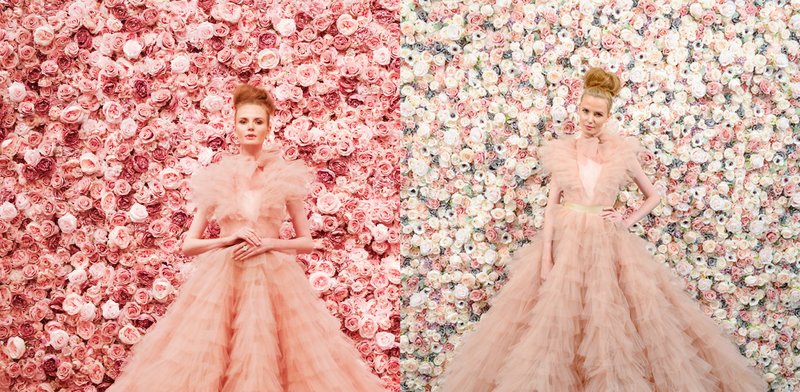 Welcome to The Flower Wall Company
It all began with us.
The Flower Wall Company was born out of a strong desire for flower walls to be available to everyone. Since 2013, we have been designing and hand arranging reusable, easy and fast to assemble and store faux flower walls in our Shanghai workshop. So far, we have flower walls on six continents, and aren't ruling out making it to the 7th!

In 2013, whilst creating luxury events in Shanghai, China, we realised the potential for reusable floral backdrops. The feedback on our images containing the real life flower walls we commissioned was simply amazing and totally unexpected. 
As inquiries from worldwide buyers flooded in, we realised the potential for reusable flower walls. Real flower walls have been a main stay at luxury Chinese weddings for nearly a decade, with florals having deep symbolism in Chinese culture, and we knew this was something we wanted to replicate globally. 
After coming up with a few ideas and how we could do this, we created The Flower Wall Company. 
We are sure we were the first to sell reusable floral backdrops globally and since our first client in 2013, we have grown into the company to work with for high end, realistic looking flower walls with our work having been featured on TV shows, magazines and clients including fashion brands and multi national companies.

By pushing the envelope with new materials and technology, The Flower Wall Company has gained a global reputation for producing visually appealing, robust, high quality flower walls with innovative designs and colour schemes at prices for all budgets. The dedication and focus on attention to detail has made The Flower Wall Company the market leader in our field.
Quality over cost.
Being located in China means we are able to work closely with our countless suppliers to create high end, gorgeous floral backdrops that are firmly aimed at the higher end of the market. We reject well over 80% of the flowers we see on the market as we have a dedication to creating realistic designs that WOW. 
We are not a factory, and we don't source from one supplier. What this means is that we are not bound to any particular design or color constraints. Some of our best walls come from custom order consultations with our clients as we discover new boundaries to push with floral design. 
Bespoke with passion.
You could said every wall we create is bespoke - even within the same design no two panels are the same. We aim for natural looking designs that mimic how real flowers look when together. With a background in design and floral artistry, our portfolio is constantly evolving as we see new trends, colors and styles appear globally. We've come a long way in a short space of time and we will continue to deliver as the flower wall company of choice for those in the know. 
Industry Leaders.
We are super flattered our work is imitated around the world, but we firmly believe our flower walls stand head and shoulders above competitors. We make the walls ourselves, we have high standards and we wouldn't send out a wall that we wouldn't want at our own event or wedding. Our walls can feature over 50 different types of flora and fauna, which we think makes them worthy of the high end and luxury description. We work hard to make gorgeous, luxe walls and this is reflected in our client portfolio, pricing and customer feedback.
Contact Us.
If you have any questions about us, our flower walls or even how the weather is in Shanghai, feel free to drop us an email!
mark@theflowerwallcompany.com
anna@theflowerwallcompany.com
---
The Flower Wall Company is owned and managed by native English speakers based in Shanghai, China. We are a passionate, creative team with a background in design and floral artistry.
---