Read My Lips Flower Wall
WELCOME TO THE FLOWER WALL COMPANY
………………………………………………………………………………………………………………………………….
We know t's and c's get overlooked, so before learning about this gorgeous wall, please read the sale terms and conditions as any purchase will be treated as an acknowledgement that you have read, understood and agreed to them.

The Flower Wall Company sale terms and conditions Need to Know:
Ordering and payment:
Transactions are made though our website and payment is made via Paypal or international bank transfer. For international bank transfer, please provide proof of payment within 72 hours of us sending you the banking details. 
European and Middle Eastern buyers please note our corporate account is in Hong Kong and therefore does not have an IBAN. The information provided to you contains the correct details for the payment to be made.
You do not need a Paypal account to purchase with Paypal, it can process any debit or credit card without the need to log in to an account.
Our flower walls are hand made to order, and once an order is placed online and payment made, the production process of obtaining the materials for your wall is commenced immediately. Please note that cancellation/refunds of orders is therefore not possible after the transaction has been completed.
All items are listed in USD. 
Production time:
Every flower wall, excluding 'One Off Walls' is 100% hand made to order according to the design chosen. As a sale period is a busy time, the production times for walls can be longer. Please do not order a wall without checking the production time. If the event you need the wall for is before the production/delivery estimate, please do not order, please email us and we will be happy to advise if we can create it in time and what rush order fees will apply. 
If you make a purchase and at a later date inform us you have a closer deadline, we will advise you if we can create it in time and if so, what order fees will apply. You will not be entitled to a refund.
Shipping:

Standard worldwide shipping is included in all purchases. This can take between 4 to 12 weeks depending on your location and other events outside our control such as covid-19, busy times or force majeure. You can upgrade to express shipping at the time of purchase or any time before your flower wall is shipped by emailing mark@theflowerwallcompany.com. 

All delivery dates are estimates.
No matter the shipping option, we will only ship to the address provided, and we cannot change the address once the flower wall has been dispatched. You must contact your local postal service with any changes or issues as once the boxes have left China we cannot make any amendments, and the buyer must re-arrange delivery with their postal service if delivery was attempted and wasn't received. 
As always, the buyer is responsible for any customs fees or import taxes that may be applied to your delivery. Please be aware of your countries rules and regulations before purchasing. Responsible buyers only please!
Receiving your wall:
Please check your flower wall and report any issues within 72 hours of receiving the delivery. Any issues after that time, especially weeks and months after accepting the delivery can be extremely difficult to verify and rectify.
Refunds:
All sales are final! Please read our FAQ's & The Walls section of our website to learn about our product or email us with any questions before purchasing as our items are non refundable.
Discounts:
As our sale items are already listed at amazing prices, we will not be offering any further discounts, including for multiple purchases. 
Advice: 
Any advice on colors, construction of the wall, styling, recommendation or any other matter in respect to the use or application of the wall is given in good faith and the buyer accepts such advice from us without any imputation of liability to The Flower Wall Company. In plain English: Our advice is not legally binding, it's just advice! 
Color differences:
As we are an online company, the product color may differ from the image shown due to differences in screen monitors, resolution, brightness, contrast, and other individual settings. The color descriptions seen on our website are for reference purposes only. 
With our custom dyed blooms, slight differences in shading of a product of the same fabric are possible due to variations in the dying process. 
Please visit our blog and Instagram account for more images of our walls being used at events and weddings worldwide to get a better idea of the colors. 
Substitutions: 
We constantly work to improve our flowers in terms of color and appearance in an effort to make gorgeous custom life like pieces and occasionally we substitute older flowers for their new, improved replacements. If we believe there is a significant change to the appearance of the flower wall to that of image on our website listing, we will notify you immediately and discuss with your how you would like to proceed. We should say, this happens rarely, but when it does, we are open and honest. We would never dispatch a flower wall that is significantly different to the image. 
---
Read My Lips Flower Wall 

Full on, in your face, and totally designed to say 'look at me', our Read My Lips Flower Wall is not for the faint of heart. 
Bold reds in different shades and over 40 different kinds of rose and peony make this beauty a totally life like, non repetitious flower wall.
Red is a classic colour that will never go out of style and it's not just for the romance of Valentines Day - red is also a key colour in Asian weddings, as well as being a solid choice for events and in store displays around the globe.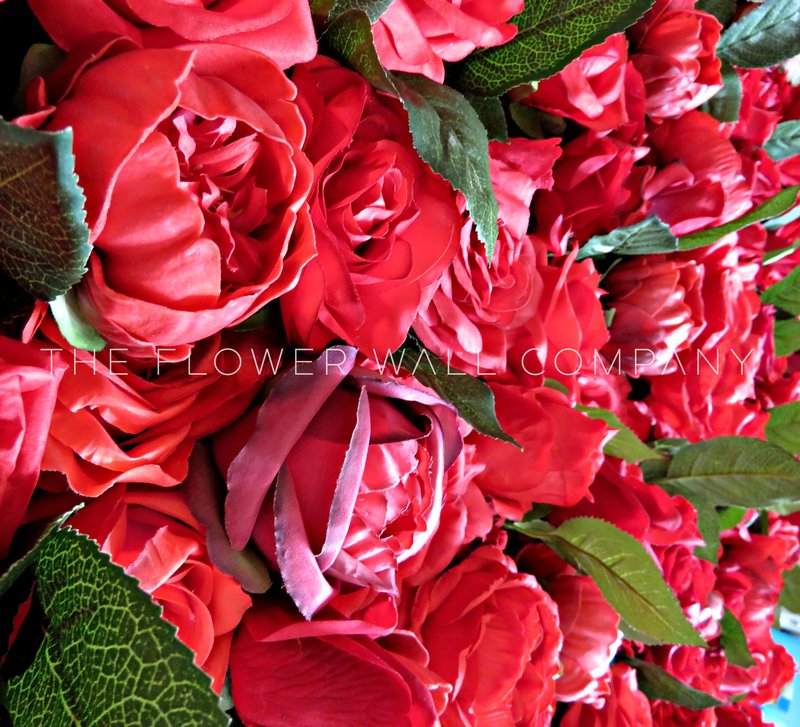 What we love about this design is just how many real touch florals are used - real touch flowers are the next level of WOW in simulation florals. They look incredibly life like, and in fact feel like real petals. They are heavier, and as they are not made of silk, are more durable which is perfect for repeat rentals. 

As always, our flower walls are hand made to order by our small but expert team skilled in floral design and artistry with thousands of pieces making up a typically sized backdrop. 

Speaking of sizes, we list our three most popular requests but we can custom make to any measurements, simply email us with your specifications and we will be happy to provide you with a quotation.
Included in your purchase is:
Flower wall panels in the size purchased (panels are 40cm x 60cm)
Clips and cable ties to help put it up
PDF Care & Construction Guide.
Extra flowers for finishing touches. 
Standard shipping with China Post, tracking numbers provided and delivery time can range from 6 - 12 weeks.
---
THE IMPORTANT STUFF


As always our flower walls are not self supporting, and we do not include the frame as part of price. 
Current flower wall production time is: 4 - 6 weeks
ALL PRICES ARE IN USD
Each flower wall comes broken down into 40cm x 60cm flexible panels that you connect together at the back with the clips and cable ties provided. We also send a handy PDF construction guide, and for more information, please visit the The Walls section of our website.
The sizes listed are our three most requested sizes, but we can create your flower wall to any size you wish. For a different size, visit our Custom Orders page and we will be happy to provide you with a quotation.